Who we are
Global Leadership Geneva-Bern (GLGB) is a Christian, non-profit organization serving the community of ambassadors, UN diplomats, members of parliament and business leaders in the area of Leaders Excellence & Nation Building in Geneva and Bern, Switzerland. It is an affiliate to Christian Embassy worldwide.
GLGB equips leaders in marketplace by nurturing and discipling them so they can have a tremendous influence on those who shape the ideas and cultures of the next generation. By caring for people in positions of influence GLGB helps them to make a positive, eternal difference in the lives of those they serve. GLGB is committed to helping world-changers achieve things that will outlast their lives.
GLGB facilitates opportunities for the Ambassadors, UN Diplomats, Members of Parliament, Business Executives and NGO Heads in Geneva and Bern across a large spectrum of world influence to consider the relevance of God in personal and practical ways at work by:
Empowering existing Christian ambassadors and diplomats at the UN through small core groups to become salt and light in their work environment and to serve their coworkers in relevant ways that meet felt needs.
Reaching out to the ambassadors and business leaders through seminars, business trips and partnering events, presenting a Christian perspective on relevant life topics, social gatherings that provide natural opportunities to build up trusting relationships and to know the love of Christ.
Fostering strategic programs on Leadership Development (Nation Building) and publications for the government ministers and business leaders which contribute to the transformation of leaders and society.
Mr. Thomas Zindel & Dr. Benjamin Levi Moses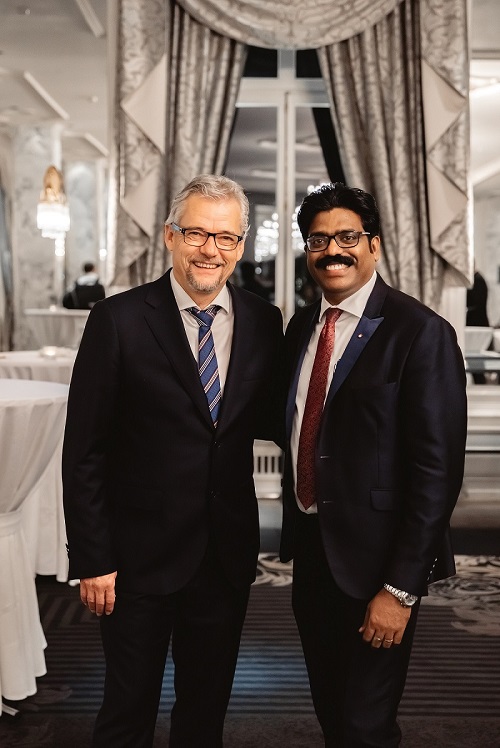 Mr. Thomas Zindel is the Director of Global Leadership Bern. He is a coach, counsellor of leaders and businessman from Zurich, Switzerland. In the past he has served as the Director of Athletics in Action, Switzerland and has worked as a Chaplain at the: World Ski Championship in Switzerland and Italy, Olympic Games in Korea, Japan, Sydney and Athens. He is also in the board of Living Free and few other associations in Switzerland. He is married to Marlise Zindel and blessed with 3 children.
Dr. Benjamin Levi Moses is the Executive Director of Global Leadership Geneva. He is a public speaker, counsellor, spiritual mentor to business and serves as a coach in the board of several Christian and social organizations worldwide. In the past he worked in leadership roles in various social development organizations mainly in Switzerland and India. He holds a PhD in Theology & Social Sciences, Masters in Public Administration and Divinity and a Bachelors in Theology. He lives in Lausanne, Switzerland with his wife Dr. Jessy Benjamin (PhD, MBA, BSc Honors Electronics) a business entrepreneur, and their two sons. Together with his wife, they are founders of a NGO that provides educational aid and community development programs to children and women from rural India.